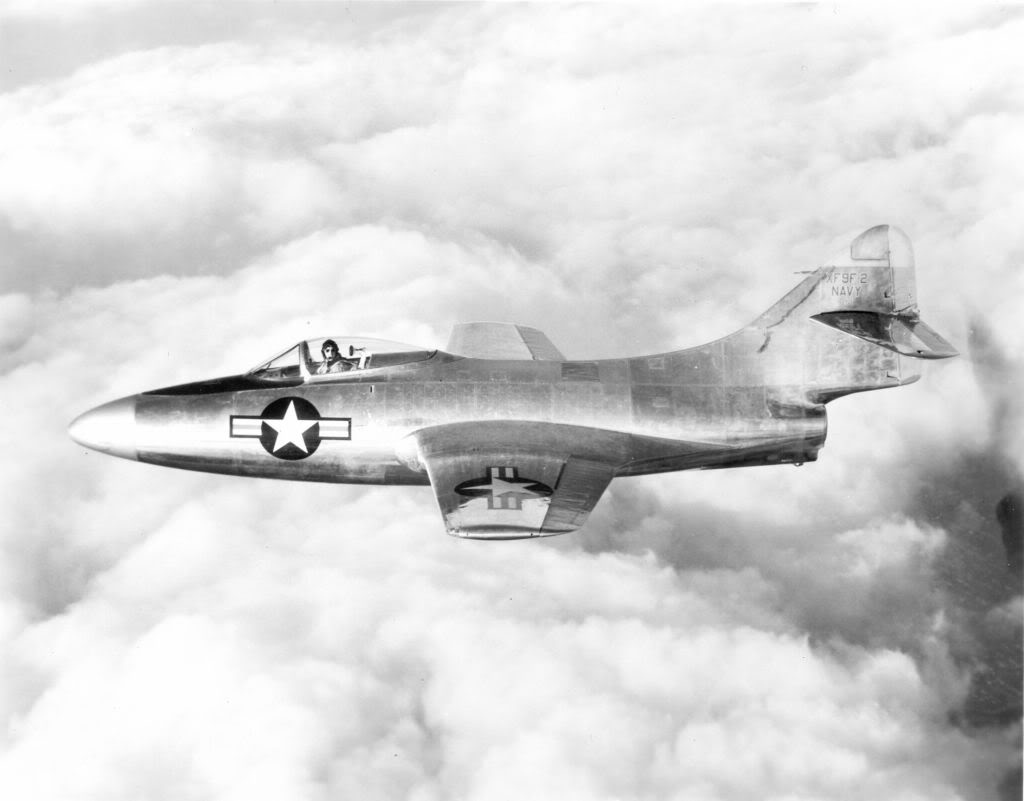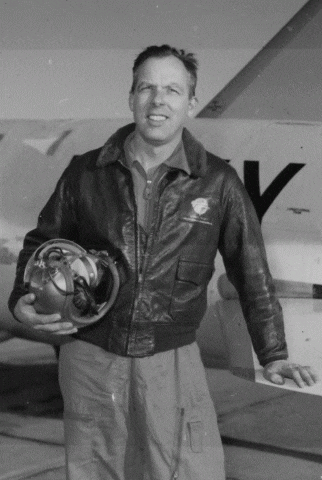 21 November 1947: Grumman Aircraft Engineering Corporation engineering test pilot Corwin Henry ("Corky") Meyer took off from the company's 5,000 foot runaway at Bethpage, Long Island, New York, in the first prototype XF9F-2 Panther, Bu. No. 122475. After the preliminary flight evaluation, Meyer landed the new jet fighter on a longer runway at Idlewild Airport. The Bethpage runway was only 5,000 feet (1,524 meters) long. As the first jet aircraft built by Grumman, it wasn't known if the XF9F-2 could land on that short a runway.
Air & Space/Smithsonian magazine quoted Meyer as saying that the weather was "the foulest of any first flight in my experience." He described the prototype's handling qualities: "It handled like a J-3 Cub." In an article for Flight Journal, Corky Meyer wrote: "I conducted a very satisfactory first flight of the 5,000-pound-thrust Rolls-Royce Nene-powered fighter on November 21, 1947."
Corwin H. Meyer also made the first flights in Grumman's F7F Tigercat, F8F Bearcat, F9F Panther and Cougar, and F11F Tiger. He eventually rose to Senior Vice President of Grumman Aerospace Corporation.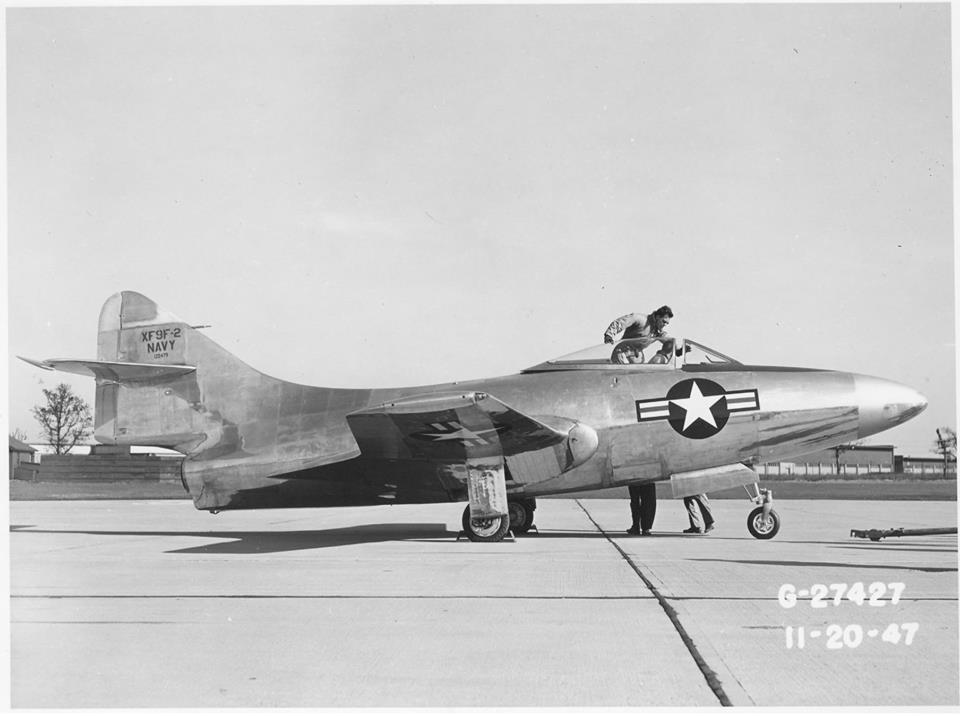 The XF9F-2 Panther was the first jet-powered aircraft to be built by Grumman, a major supplier of aircraft for the United States Navy. It was a single-seat, single-engine, day fighter, designed for operation on the U.S. Navy's aircraft carriers. It was developed from a proposed four-engine XF9F-1 night fighter. Grumman planned to use the Rolls-Royce RB.41 Nene centrifugal-flow turbojet engine. With 5,000 pounds rated thrust at 12,400 r.p.m., the Nene was more powerful (and more reliable) than any engine manufactured by an American company.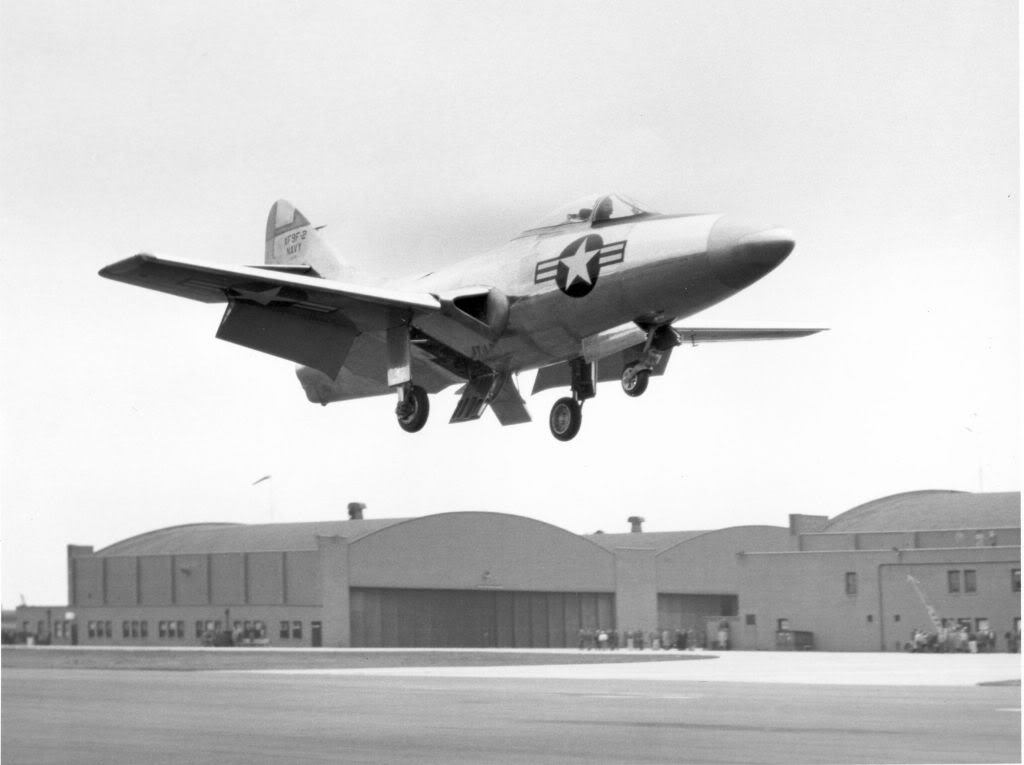 Originally it was planned that the Nene would be licensed for production to the Taylor Turbine Corporation as the J42-TT-2. No J42s were ready, so Taylor supplied Grumman with imported Rolls-Royce engines. The Navy had concerns about Taylor's capability to produce engine in sufficient quantities and arranged for the J42 license to be sold to Pratt & Whitney.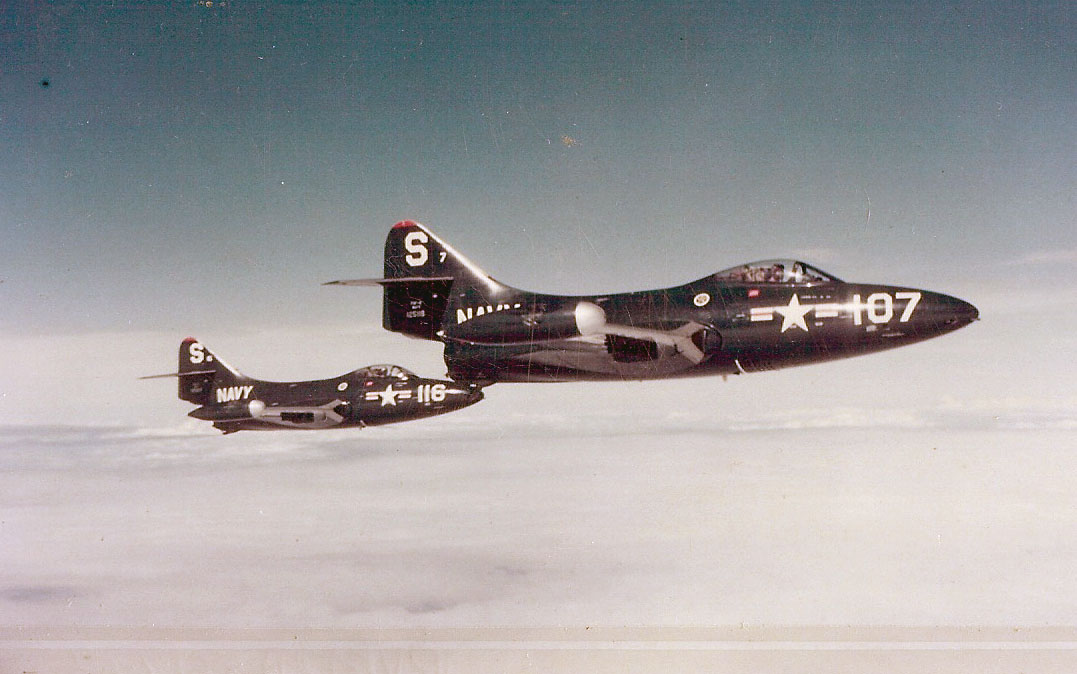 The Panther was placed into production as the F9F-2. The F9F-2 was 37 feet, 5-3/8 inches (11.414 meters) long with a wingspan of 38 feet, 5⅜ inches (11.719 meters) long, with a wingspan of 38 feet, 0 inches (11.528 meters)— not including wing tanks. Its overall height was 11 feet, 4 inches (3.454 meters). The wings could be hydraulically folded to reduce the span for storage aboard ship. The Panther weighed 9,303 pounds (4,220 kilograms) empty, and had a gross weight of 19,494 pounds (8,842 kilograms.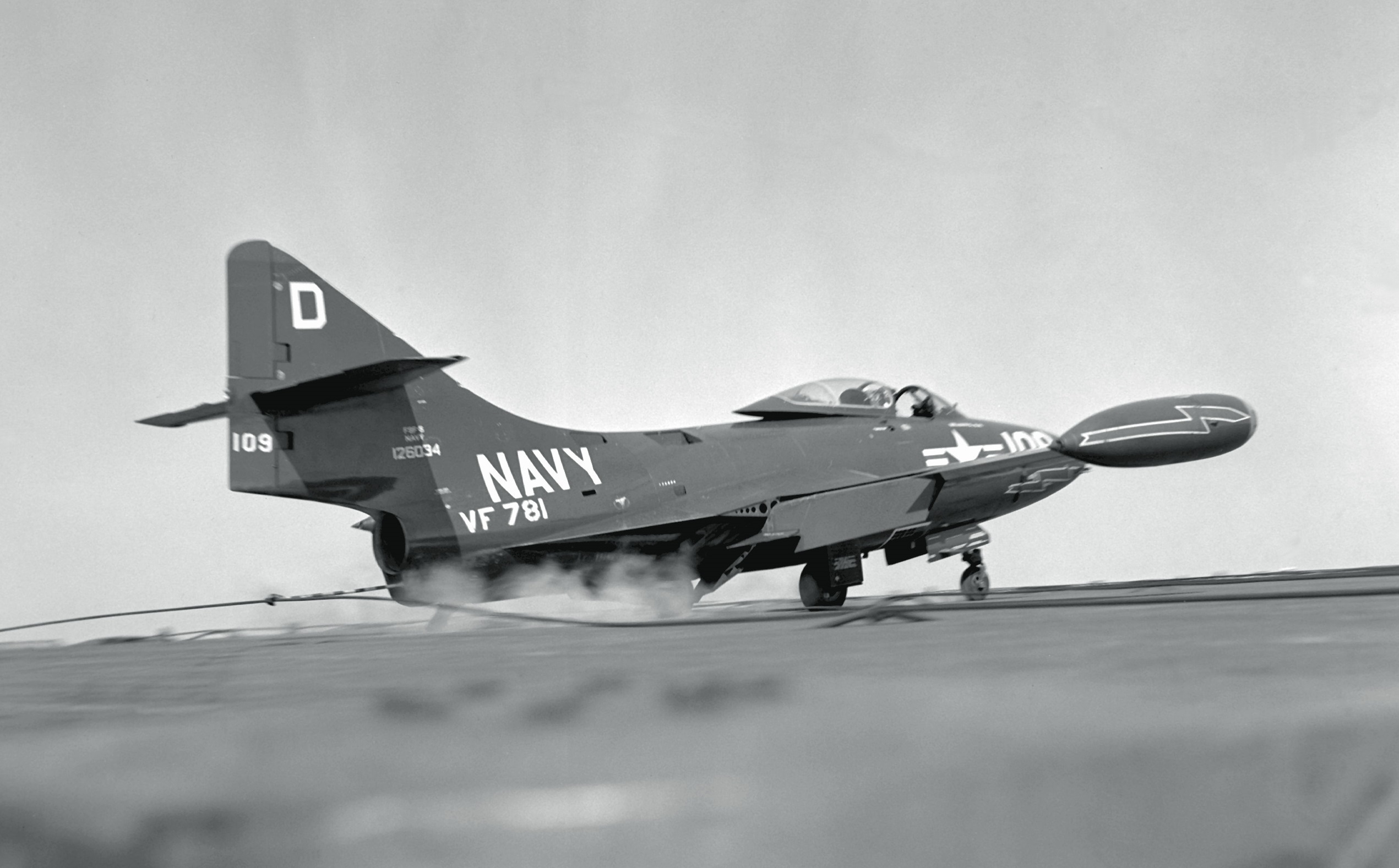 The F9F-2 was powered by a Pratt & Whitney JT6 (J42-P-8) turbojet engine which produced 5,000 pounds of thrust (22.241 kilonewtons) at Sea Level, and 5,750 pounds (25.577 kilonewtons) with afterburner. The J42 was a license-built version of the Rolls-Royce Nene. The engine used a single-stage centrifugal-flow compressor, 9 combustion chambers and a single-stage axial-flow turbine. The J42-P-8 weighed 1,715 pounds (778 kilograms).
The Panther had a maximum speed of 575 miles per hour (925 kilometers per hour) at Sea Level. Its service ceiling was 44,600 feet (13,594 meters), and the range was 1,353 miles (2,177 kilometers).
The Panther was armed with four M3 20 mm autocannon placed in the nose. It could carry up to 3,000 pounds (1,361 kilograms) of bombs or eight 5-inch (12.7 centimeters) rockets on four hardpoints under each wing.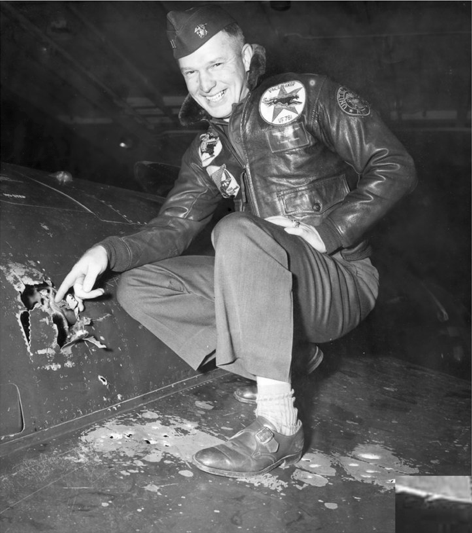 It was a very successful air-to-air and air-to-ground fighter during the Korean War. On 18 November 1952, Lieutenant Elmer Royce Williams, USN, flying an F9F-5 Panther, Bu. No. 125459, of VF-781 aboard the aircraft carrier USS Oriskany (CVA-34), shot down four of seven Soviet Air Force MiG 15 fighters which had launched from Vladivostok toward Task Force 77. His Panther sustained significant damage from enemy cannon shells. Though he safely returned to his carrier, the fighter, Number 106, was so badly damaged that it was pushed over the side. Lieutenant Royce was awarded the Silver Star for this action. No other pilot has ever shot down four MiG fighters during a single combat action.
The F9F Panther was flown during the Korean War by such famed naval aviators as Ted Williams, and future astronauts John Glenn and Neil Armstrong.
Grumman built 1,358 F9F-2,-3,-4 and -5 Panthers and another 1,392 swept wing F9F-6, -7 and -8 Cougars. Panthers remained in service with the United States Navy until 1958, and Cougars until 1974.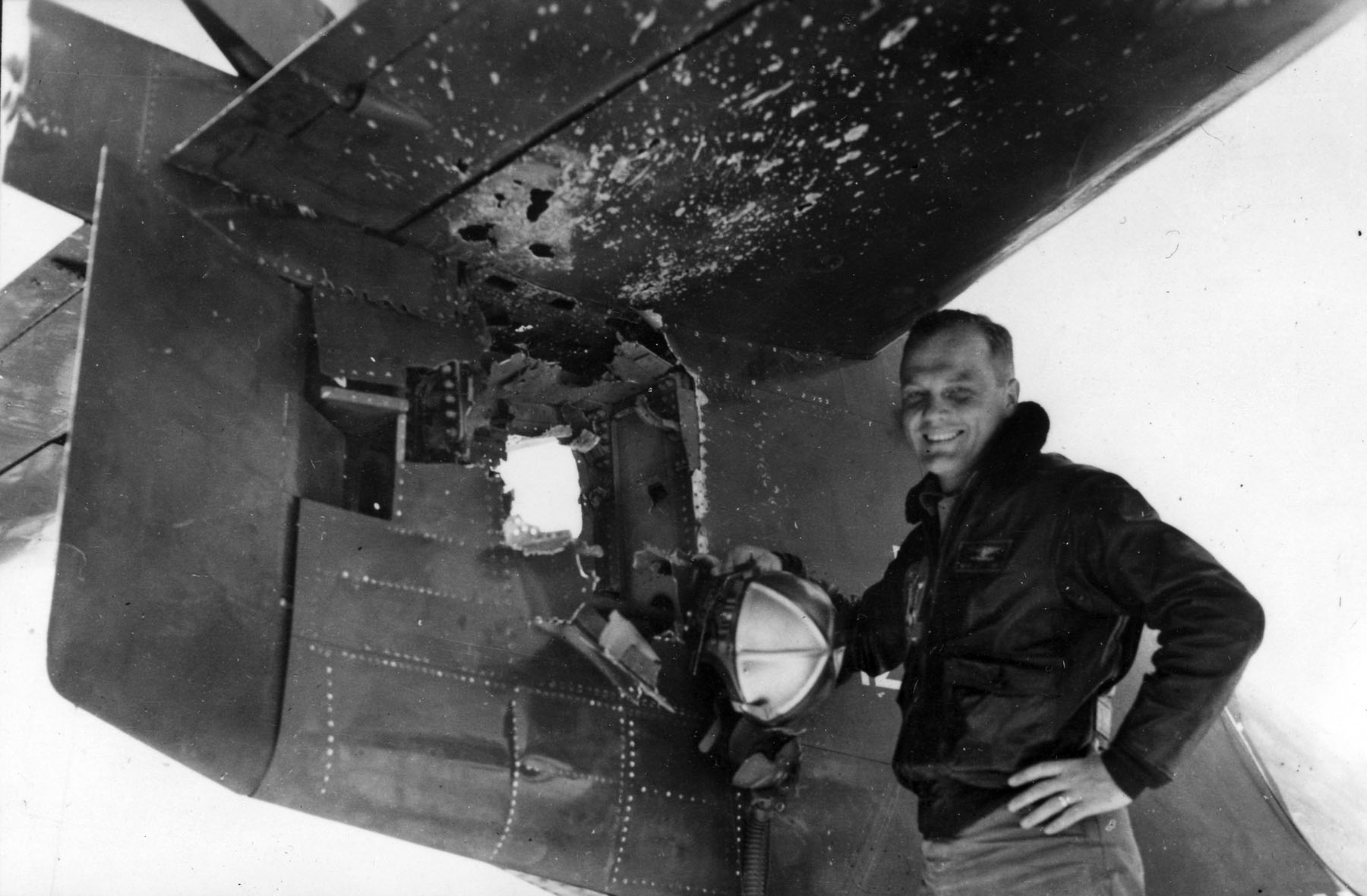 © 2016, Bryan R. Swopes
The post 21 November 1947 appeared first on This Day in Aviation.
Source: This Day in Aviation